Welcome to CDNA
For all competition enquiries contact the Competition Secretary.
For all general enquiries contact the Association Secretary.
You can provide feedback on the website by email at web@cdna.com.au.
Applications for coaches, assistant coaches and managers for State League teams for 2015 close 27 September. Applicants for coaching positions require a minimum Development Accreditation. Applicants should complete the application form and forward it to the Rep Co-ordinator, Tracey Connolly.
Congratulations to our State league team 2 who won their Division 7 Grand Final on Saturday 13 September. Thank you to all the supporters who came out to cheer. Our photographer was there to capture the action. Team 2 Premiers. The coverage in the Macarthur Chronicle can be seen here.
On Saturday 23 August we concluded our season with the Grand Finals. Thankfullly the rain stayed away for most the early part of the day. Congratulations to all the teams that won and to those that came runners up. The results for the grand finals are available here. The Macarthur Advertiser photographer took a few shots. ... photos
The South West Sydney Academy of Sport is now accepting nominations from female athletes wishing to take part in the 2014-2015 SWSAS Netball Open's Scholarship Program. Click here for further details.
Reminder late registrations for Night Comp Wednesday 17 September.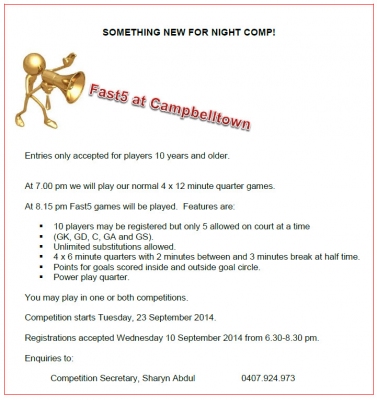 Important message ... The Executive of the CDNA is very concerned that people are parking along the fence line near the toilet block on training nights and on Saturdays. This is dangerous as young children walk (run) across the roadway to get to their cars in the parking spaces. This situation has become worse over the past few nights as people are now parking across the front of the bollards. We ask that all drivers be considerate of others and young children and park their cars in a car space.
The website now has a CLUB NOTICE BOARD page which can be accessed from the Clubs Tab at the bottom of each page. Check out the latest club notices.
The CDNA has a Facebook page as well as a Twitter account (@CDNA_News). Go to the Facebook page and LIKE to be kept up-to-date on what's happening at Campbelltown Netball. Deatails about whether games have been cancelled will be posted on the Facebook page and advised via Twitter.